Andrographis 400mg Planetary Herbals
C-ANDROG400-PH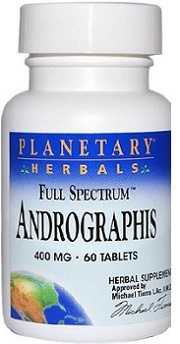 Planetary Herbals Andrographis
Standardized: yes, 400 mg
[tab name="Overview"]
Used for a wide variety of conditions, andrographis is known most commonly to boost the immune system to prevent and treat the common cold.

Other uses include: immune modulation (stimulation of antibody formation), prevention of Lyme disease, acute onset of infection, dermatoborreliosis (skin manifestations), headaches, chronic fatigue

In Stephen Buhner's book Healing Lyme (page 88) he notes with regard to Andrographis: "I suggest the use of the standardized herb in the treatment of Lyme disease. These preparations normally contain 300mg of standardized constituents and 100mg whole herb—400mg total."
[tab name="Use / Dosage"]

Suggested Dosage: 1 tablet twice a day.
[tab name="Precautions"]

Some people have reported allergic reactions to andrographis. Discontinue use if you have a reaction.
[tab name="References"]
. [endtab]
These statements have not been evaluated by the Food and Drug Administration. The information provided here is intended to supplement, not substitute for, the expertise and judgement of your physician, pharmacist or other healthcare provider and should not be construed to indicate that the use of this herbal product is safe, appropriate, or effective for you. Consult your healthcare provider before taking this herbal product.
Size Options
60 Tablets (0) 120 Tablets (7.2)