Astragalus Root Tincture
T-ASTR-R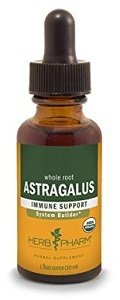 Label: Herb Pharm
Botanical Name: Astragalus membranaceus
Parts Used: root (autmn harvest)
Fresh/Dried: shade dried
Organic: yes, certified
Menstruum: alcohol & distilled water (gluten free)
Menstruum Ratio: 1:5
Origin: USA

Adaptogen / Anti-inflammatory / Immunostimulant / Antioxidative / Antiviral

Known Uses:
Stimulates the immune system
Common Cold Prevention - One study showed that Astragalus elevates antibody levels in healthy people.
Hepatitis - Early clinical trials in China suggest Astragalus root might benefit people with chronic viral hepatitis.
No Known Side Effects or Drug Interactions
These statements have not been evaluated by the Food and Drug Administration. The information provided here is intended to supplement, not substitute for, the expertise and judgement of your physician, pharmacist or other healthcare provider and should not be construed to indicate that the use of this herbal product is safe, appropriate, or effective for you. Consult your healthcare provider before taking this herbal product.


Size Options
1 oz w/ dropper (0) 4 oz w/ dropper (33)