Brown's Peony Root Tincture
T-BROWP-R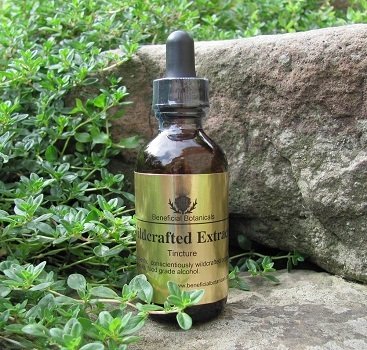 Label: Beneficial Botanicals
Botanical Name: Paeonia Brownii
Other Names:Western Peony, Native Peony
Parts Used: dense root
Organic: Yes
Tincture Ratio: 1:1
Origin: USA
Known Uses:
Smooth Muscle Relaxant
Immune System Stimulant
[tab name="Overview"]
Antispasmodic / Analeptic / Immunomodulatory

Constituents: monoterpene glycosides (paeoniflorin, albiflorin), asparagin, benzoic acid, triterpenoids
[tab name="Use / Dosage"]
Brown's Peony root has been the subject of clinical study for its ability to inhibit convulsions and protective qualities against neuron damage. It is a smooth muscle relaxant for painful muscle cramping in the GI tract and a helpful gynecological aid to reduce muscle tension, yet stimulate uterine muscles. Others report using it to relax general muscle tension and relieve anxiety.

Known Dosage (for Adults)
Cramping and Muscle Tension: 1/2 teaspoon in warm water, sip slowly. Re-evaluate need for additional dosages. Do not take longer than a consecutive 4 week period.
Immune Stimulant: 1/2 teaspoon in warm water when exposed to a cold or flu virus.
[tab name="Precautions"]
Medications that slow blood clotting interact with Brown's Peony. Phenytoin (Dilantin) interacts with Brown's Peony since it may decrease the effectiveness of Phenytoin and increase the risk of seizures.

Brown's Peony root may slow blood clotting, so there is a chance of bleeding during and after surgery. Stop using this tincture at least 2 weeks before a scheduled surgery.

Women who are pregnant or breast feeding should not take Brown's Peony root. Avoid taking this tincture if you have had lose bowels or diarrhea.

Some people may be sensitive to this plant. If you develop nausea, discontinue use.
Never take an extract or tincture that has been made with the flowers and/or leaves of the Peony plant.

[tab name="References"]
Journal of Herbal Pharmacotherapy "Inhibitory Effects of Peony Root Extract on the Large Conductance Calcium-Activated Potassium Current Essential in Production of Bursting Activity" 2006, vol.6, No. 2, Pages 65-77. E.Sugaya, W.Jin, A.Sugaya, K.Sunaga, T.Tsuda
Journal of Herbal Pharmacotherapy "Molecular Mechanism of Preventative Effect of Peony Root Extract on Neuron Damage" 2004, Vol.4, No.1, Pages 9-20. K.Sunaga, E.Sugaya, K.Kajiwara, T.Tsuda, A.Sugaya, M.Kimura
[endtab]

These statements have not been evaluated by the Food and Drug Administration. The information provided here is intended to supplement, not substitute for, the expertise and judgement of your physician, pharmacist or other healthcare provider and should not be construed to indicate that the use of this herbal product is safe, appropriate, or effective for you. Consult your healthcare provider before taking this herbal product.

Size Options
2 oz bottle w/ dropper (0) 4 oz bottle w/ dropper (16) 8 oz bottle w/ cap (49) 16 oz bottle w/ cap (113)