Maitake Mushroom (Cultivated) Powder
P-MAIT-M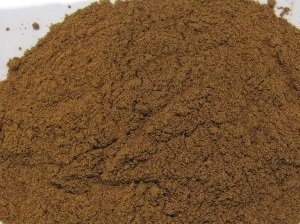 OUT OF STOCK

Label: Beneficial Botanicals
Botanical Name: Grifola frondosa
USDA Certified Organic, cultivated, grown in the USA
Minimum 15% Beta Glucan (polysaccharide)
Active Ingredients: Activated Grifola frondosa
Other Ingredients: less than 0.4% organic myceliated brown rice (growing medium)
• Antioxidant - high scavenging ability on superoxide anions
• Diabetes - increase insulin sensitivity, diminishing resistance of peripheral target tissues
• Hypertension - lower blood pressure
• Ovulation - inducing ovulation in patients with polycystic ovary syndrome
• Anti-inflammatory - associated with inflammatory bowel disease
• Cancer - inhibits tumor metastasis, enhanced bone marrow colony formation, enhance interferon activity against bladder cancer cells, immunomodulatory effects in postmenopausal breast cancer patients

[tab name="Overview"]

Maitake is an edible mushroom consumed widely in Asia as food and a major culinary mushroom used in Japan. It is prized in traditional Chinese and Japanese herbology as a medicinal mushroom used to treat diabetes and hypertension as well as an aid to balance out altered body systems to a normal level.
Constituents & Mechanism of Action:
Polysaccharides: 1,3 and 1,6 beta-glucans have been identified to be the active constituents. Alpha glucan is also present. An extract of these helpful glucans was patented and is known as the maitake D-fraction. You'll see this term all over the internet when searching for Maitake mushroom supplements. The terms "D-fraction" and "MD-fraction" are simply referring to a concentration of maitake polysaccharides. Other beneficial constituents include lipids, phospholipids, and ergosterol (Vit. D12). Maitake has the ability to activate various effector cells, such as macrophages, natural killer cells, and T cells, as well as interleukin-1 and superoxide anions.
Shelf Life: approx 4 yrs stored in a cool dark place, see expiration date on package
[tab name="Use / Dosage"]

Serving Size: 1 teaspoon equals 2,000 mg
Known Dosage (for Adults): 1/2 to 1 teaspoon, twice daily sprinkled in soup, on salad, or stirred into coffee or smoothies. Or use the powder to make "00" size capsules (approx 1/4 teaspoon is equal to 2 capsules).
Tips for Capsule Making: Use the powder to make capsules (1/4 tsp = approx 2 capsules). An 8 oz. bag will make approximately 400 capsules.
Known Uses:
DIABETES and OVULATION The alpha-glucan in Maitake mushroom is thought to effect insulin receptors by increasing insulin sensitivity and diminish insulin resistance of peripheral target tissues. In women, insulin resistance can lead to acute infertility. A small but statistically-significant clinical study in Japan showed that consuming maitake increases ovulation by helping renormalization of the insulin-glucose feedback pathways. Therefore it is shown that Maitake not only helps control diabetes and activate complex immune response pathways, but also helps fertility through mitigating insulin-stressed fertility problems also associated with polycystic ovary syndrome.
CANCER Studies from 2004, 2008, 2009 and 2010 showed that Maitake inhibited tumor metastasis, enhanced bone marrow colony formation, enhanced interferon activity against bladder cancer cells, and had immunomodulatory effects in postmenopausal breast cancer patients. In a 2010 study done on mice, oral maitake extract promoted maturation of hematopoietic cells to functionally active myeloid cells and enhanced peripheral blood leukocyte recovery following chemotoxic bone marrow injury. The exact cancer fighting action of these glucan molecules is still not clear and is under study. Rather than attacking tumors themselves, some researchers believe they stimulate the production of T cells to fight the afflicted cells. Researchers found that the mycelium of maitake produces a greater array of lower molecular weight sugars and exopolysaccharides and that these molecules are known to activate significant immune responses, enhancing the ability of immune cells to kill and consume lung and breast cancer cells.
ANTI-INFLAMMATORY In a 2010 study a water extracted tincture of Maitake (Grifola frondosa) was shown to alleviate intestinal inflammation by suppressing TNF-alpha production and its signaling.
[tab name="Precautions"]

Do not take Maitake if you are taking Warfarin, an anticoagulant (blood thinner), as it may result in an elevated international normalized ratio (INR).
Do not take Maitake if you are a Type 2 diabetes patient taking hypoglycemic medications, as it can have synergistic effects.
[tab name="References"]

Memorial Sloan Kettering Cancer Center [citing 24 references]; Experimental and Molecular Medicine February 28, 2010; American Journal of Chinese Medicine 2008; Journal of Agriculture and Food Chemistry April 19, 2006; Journal of Cancer Research and Clinical Oncology September 2009: World Journal of Microbiology and Biotechnology March 2011. [endtab]

These statements have not been evaluated by the Food and Drug Administration. The information provided here is intended to supplement, not substitute for, the expertise and judgement of your physician, pharmacist or other healthcare provider and should not be construed to indicate that the use of this herbal product is safe, appropriate, or effective for you. Consult your healthcare provider before taking this herbal product.
Size Options
8 oz bag (0)