Rodale's Book of Practical Formulas
B-RBPF-Rodale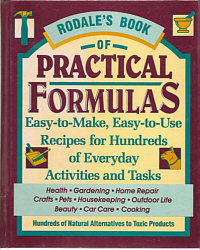 Rodale's Book of Practical Formulas
Editor: Paula Dreifus Bakule
New Book | Hard Bound | 456 pp | Size 9.1 x 7.4 x 1.1"
ISBN# 0878579796 | Rodale Press (September 1991)

This book is full of easy-to-make and use formulas for everyday household needs from skin moisturizer to roach powder! The index is set nicely where you can reference what you're looking for in a category like "stains" but also find it elsewhere under the listing for "carpet".
The recipes and tips help you save money and avoid unnecessary purchases when you can use something just as effective right out of your cabinet or refrigerator. Learn what you can do to save money and trips to the store.
Content Sections:
Car Care
Cooking
Gardening
Beauty
Health
Home Repair & Remodeling
Housekeeping
Crafts
Pet Care
Outdoor Life