Wildflower Folklore
B-WF-Martin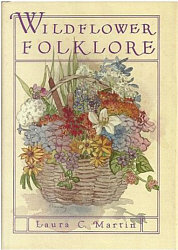 Wildflower Folklore
Author: Laura C. Martin
Like New | Hard Bound w/ Dust Cover | 256 pp | Size 10.25 x 8.25 x 1.9"
ISBN# 0887420168 | Globe Pequot Press 1988
This lovely reference book is a surprisingly delightful read! The line drawing illustrations and water color style graphic on the dust cover wakes up the mind to nature's beauty and whets the appetite for the curious content.
Though now out of print, this is such a nice reference book that we vowed to carry it as long as we can. The book is laid out in groups by flower color and alphabetized by the flowering plant common name. For each, the common and Latin names are followed by a description, habitat information, bloom time, and the facts, myths, and/or legends about the plant.
A sample of folklore from the book: "Because the blossoms of soapwort have a pleasantly strong smell, the flower was often planted along poor streets in cities to hide the stench from improper sanitation practices. For this reason, soapwort was often sarcastically referred to as 'London Pride'."
This book is a joy for gardeners, herbalists, or anyone who is a lover of plants.